European Teachers Towards the Knowledge Society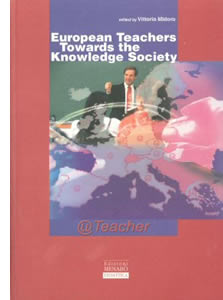 edited by Vittorio Midoro
Edizioni MENABÒ DIDATTICA
Pubblicato nel: 2005
Pagine: 264
Prezzo:
Download PDF

Abstract:
This book originates in the context of uTeacher, a project of the European e-Learning Initiative. The uTeacher partnership involves 3 partners: Istituto Tecnologie Didattiche (CNR, Genoa, IT), the contractor, SSIS Veneto (Università Ca' Foscari, Venice, IT) and the University of Glasgow (UK). The main aim of uTeacher is the definition of a Common European Framework on teachers' profile in ICT for Education. In Initial Teacher Education (ITE) and in the Continuing Professional Development (CPD) this framework will represent a means for educational administrators, course designers, teachers, examining bodies, etc. to reflect on their current practice, with a view to situating and co-ordinating their efforts and to ensuring that they meet the real needs of school in the knowledge society. In the near future, the framework could become a common basis for the elaboration of syllabuses, curriculum guidelines, examinations, textbooks, etc. across Europe.
To be accepted, this framework needs to result from a participatory approach, involving all European countries. Before starting this process, all the actors involved in framework production should have a clear overview of the current teachers' profile in ICT for Education underlying ITE and CPD initiatives across Europe.
This book aims to provide such an overview. It was written cooperatively by the uTeacher partnership, along with 19 European experts who in uTeacher are called "National Investigators" (NI).
The production process which led to the publication of this book comprised a series of coordinated activities designed to help gain a clear picture of the situation in each country regarding teachers' ICT profile underlying ITE and CPD, and to provide the opportunity for Europewide dialogue and comparison. These activities resulted in the drafting of national reports and of Week-long Seminar position papers reflecting trans-national perspectives and issues. It also saw the formation of a network of European investigators, consolidated at a week-long seminar, who will work together in producing the framework.

INDICE:
SECTION 1

An overview of Initial Teacher Education and Continuing Professional Development in ICT for Education across Europe

15

Types of teachers

16

Institutions Responsible for Initial Training

20

ICT for education in ITE

20

Approaches of Continuing Professional Development (CPD)

26

ICT for education in CPD

31

Ways of accomplishing ITE and CPD

35

SECTION 2

Countries situation

39

AUSTRIA

40

BELGIUM

54

CZECH REPUBLIC

62

DENMARK

71

ENGLAND

84

FINLAND

100

FRANCE

110

GERMANY

119

GREECE

128

HUNGARY

138

ICELAND

149

IRELAND

159

ITALY

170

NORWAY

180

PORTUGAL

190

SCOTLAND

199

SPAIN

214

SWEDEN

228

THE NETHERLANDS

235

SECTION 3

Week-long Seminar position papers

247

ICT AND TEACHER TRAINING: COMING TO TERMS WITH CHANGE

248

CHALLENGES PRESENTED BY THE PRODUCTION OF A COMMON EUROPEAN FRAMEWORK FOR ICT IN EDUCATION - PERSPECTIVES FROM THE NATIONAL CONTEXT OF AUSTRIA, BELGIUM, FINLAND, IRELAND, NETHERLANDS & PORTUGAL

252

THE CHALLENGE OF DEVELOPING A COMMON EUROPEAN FRAMEWORK

257
Il testo puo essere acquistato presso:
Menabò srl,
via Roma 88, 66026 Ortona (Chieti)
tel. e fax 0859062001